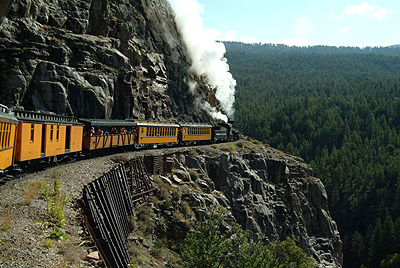 Guests of Durango's Blue Lake Ranch enjoy a delightful trip into the past on the Durango & Silverton Railroad. This scenic journey on Durango's historic coal-fired, steam-powered locomotive is a local and tourist favorite, perfect for travelers of all ages! This full day experience takes you deep into the beautiful San Juan mountain
range, with a two hour stop in Silverton, Colorado, a quaint historic mining town. .
The Durango and Silverton Narrow Gauge was established in 1882 and offered a beautiful trip for passengers, as well as an efficient way to transport ore, gold, and silver from the Silverton mines to the larger township of Durango.
A day spent on the Durango Train, is most definitely a day well spent, and memory that will be cherished.
Blue Lake Ranch, The Don Gaspar Inn (Santa Fe) and The Casa Blanca Inn (Farmington) are all member Inns of the Southwest. Visit our websites for specials!